Reptile keepers for over 50 Years!
Here at Coast to Coast Exotics we live and breathe exotic animals. We are enthusiasts with a broad spectrum of interests and all our staff keep a wide range of species at home. Here at Coast to Coast Exotics, experience and staff welfare is paramount, that's why all our team have remained with the company for many years.
At the heart of Coast to Coast is the owner Stuart Dodsworth, he took over ownership of the business in March 2023 when Kevin wanted to step back after 30 years.  He sees to the daily upkeep of the store. He is a well known herpetologist with a very broad spectrum knowledge of not only reptiles and amphibians, but also arachnids and other invertebrates. He first started keeping exotics in the mid-90's and in 1997 gained his National Diploma in Animal Care. He has gained a reputation for his experience in Terrapins, Iguanids, Tegus and Monitors, larger Boids, Water snake species and in the last few years his interests have spread to entomology. He has been involved in various radio and TV programmes, spoke at various events and helped with several media writings.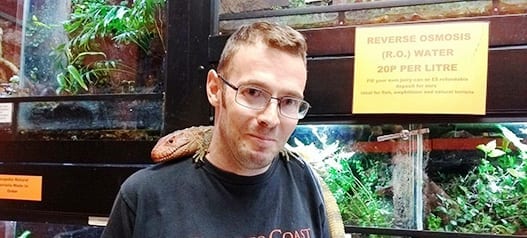 We have two further staff members; Melissa and Helen. Melissa started work for us in the early 2000's. Helen has been with us as staff for a few months, but started with us some years ago as a college work experience. Both have a varied interest in exotic animals keeping a selection of species at home.
Coast to Coast wouldn't be where it is today if it wasnt for the hard work over the last 30 years of founder Kevin Stevens. Kevin is well known in the hobby not only for Coast to Coast Exotics but also for his committee work with the various well known Societies and Federations within the UK, including the IHS which he first joined in 1980. By the early 1990's, Kevin was one of the largest snake breeders in the UK, specialising in Colubrids and small Boid species. He opened Coast to Coast Exotics in 1993, the longest established exotic animal specialist in the North East and one of a handful in the UK that have traded for such a long time. He regularly contributes to magazines, journals, TV and Radio programmes – and even movies. Kevin holds a City and Guilds in Herpetology. He has a keen interest in photography and general natural history and everyone at Coast to Coast Exotics wishes him well in his next adventures.