This part of the field trip to Australia takes us to the more exciting and herpetologically interesting red centre – Alice Springs and Uluru. Last months instalment brought some interesting reptiles, but of course the further north you go in Oz, the more reptiles there are to wet our appetite!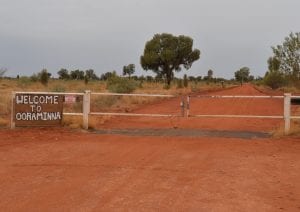 I stayed in a small holding just outside of Alice springs, around 40 miles away down a sand road, out there it is very remote and even the main roads are very sporadically paved or tarmacked. The little hut I had managed to track down was perfect for anybody hunting reptiles and amphibians, remote and pretty much undisturbed (although a local rubbish dump proved very favourable hunting!).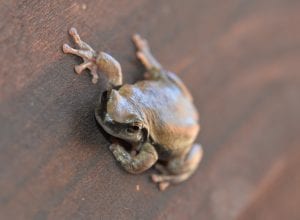 On the first morning it had been raining, and one of my first finds was the treefrog, and I didn't have to go far, it was in my toilet bowl! My first sighting was brief as he jumped back into the toilet bowl water, but the next time, a few minutes later I was determined to catch him! As a lifted the bowl he went to jump, but I caught him! After washing my hands, I took him outside and got one or two pictures on the side of the hut before releasing him.
It was a good start, and I was pleased it had rained the night before. Five minutes away from the hut, between to ravines there was a Water hole, and I caught sight of my first wild Monitor, or Goannas they are called out there. The water hole attracted several Perenties, a very large species that was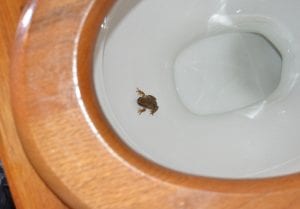 massive want on my "must see" wish list. Again attracted out of their hides due to the water the night before.
A great start.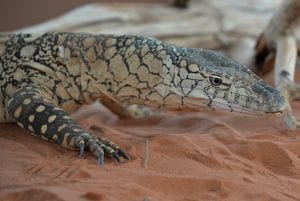 As the day warmed up the next find was a Striped Skink Cteriatuis spp., a fossorial species found in and around rock screes. These turned out to be very common, and I became bored quickly seeing these. Luckily, there were more exciting reptiles to be find, including my first snake, a Desert Death adder – a highly venous species which I was very pleased to find. The reptile gods were treating me well – I had fell lucky with nearly perfect hunting weather.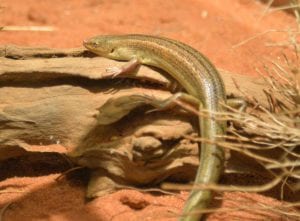 My biggest wish on my list was to find Thorny Devils (Moloch horridus), it's a a species I have wanted to see since childhood – and of course a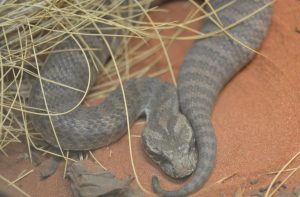 parallel evolution species to Horned toads (occur in a continent on the opposite side of the world) that I personally keep at home. It was about 11am, and the sun was getting high in the sky, the temperature was creeping up to low / mid twenties (centigrade). There it was, sat in a sand dune, my first sighting. They are not fast moving, and behave very similar to Horned toads, easy to catch. He was very keen at being caught though, and as I positioned him to take photographs he obliged instantly with the tail directly up in the air pose, that they were well known for. He was still relatively cold, probably only come out to bask an hour or so ag, so he didn't have his bright contrasting colours, but as the trip went on I did see others later in the day, and the colours are fantastic. Probably my favourite reptile in Australia.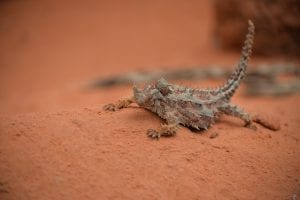 As the day continued to heat up I found the first, of many, of a true basking diurnal species of lizard – the Central Netted dragon. These are one of the commonest lizards I saw during the day in the area I was staying – they reminded me much of Swift and Fence lizard species that occur in North America and I have studied many times in the wild.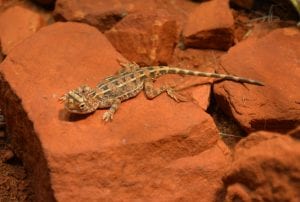 On the way "home" for the night to the cabin, the sun was starting to get lower in the sky, I spotted another "must see" for the trip – a Blue Tongue skink. This was the western Blue tongue Tiliqua occipitalis, and this was about the time of day that I expected to see them, much like the Shinglebacks I found earlier in the trip.
To finish off the very productive day, upon arrival to the hut, there were several geckos attracted to the huts foyer light, they were fast, but I managed to catch a couple and get some pictures too.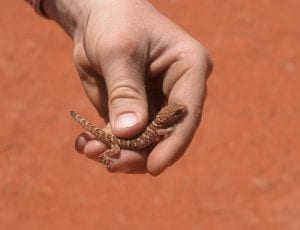 An excellent portion of the trip! Long hikes paid dividends with sightings of various "non-reptile species of birds and mammals – Australia is a fantastic country for anybody with an interest in wildlife!