Interzoo is the largest gathering of pet trade manufacturers and suppliers in the world. Held in Nuremberg every other year – usually in May. Nuremberg is a beautiful city (if you can forget that 90% of it was destroyed during the war, and rebuilt in a similar medieval style) and the Expo centre is easily reached on public transport from the city centre. It is a trade event only, no members of the public, and caters for those in several pet industries ranging from reptiles to equestrian, dog grooming to general pet supplies and almost everything inbetween. It attracts several thousand visitors over three days, and takes up the whole of the Expo centre, covering over a dozen large halls. The city of Nuremberg, during Interzoo, is full of pet industry people, and each evening the restaurants, bars and hotels are spilling over with pet related conversation – in worldwide languages.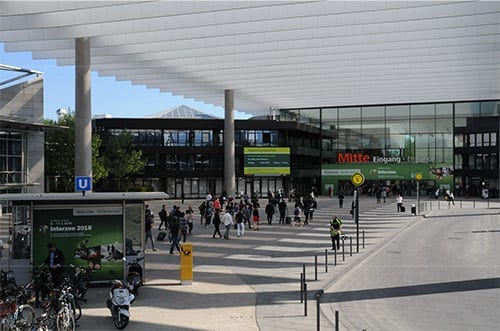 I have not been to Interzoo for a while, so in 2018 I made the effort to see how the reptile world was progressing. All the big manufacturers exhibit – Exo Terra, Zoo Med, Komodo and Lucky Reptile usually have large displays, and this year was no exception. Some of the smaller manufacturers were also in attendance – for example I was pleased to see the new up and coming Reptile Systems, one to watch out for. They all want to shout about their product ranges and in particular showcase their new products and those about to be released.
The first stand I visited was the hugely successful Zoo Med Company, one of the oldest reptile product manufacturers – if not the oldest. A very large attractive stand, with lots of friendly staff attending to visitors. I spent so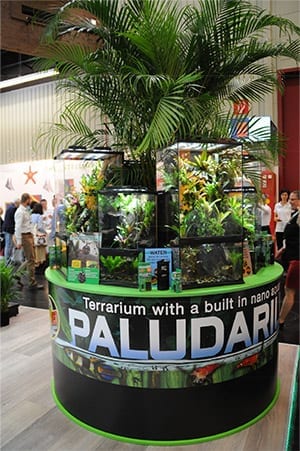 me time here, asking questions about their new products, and the team were all very aware of Coast to Coast Exotics and what we are up to in the UK.
The first display that attracted me was their (not yet released to the public) range of Paludariums (Paludaria?) and heaters / filters designed specifically for Paludariums. The Zoo Med Paludariums are based on their existing glass terrarium range – with a  difference – an eight inch (approx) deep nano aquarium at the bottom. This is not a new idea, keeping reptiles, amphibians and fish together in a natural micro-system has been around a very long time – but this is the first mainstream manufacturer I have seen to cater for it. This could be the biggest news of the show, as far as I am concerned. The rapidly growing natural eco terraria segment of the industry will allow this concept to be taken into the average hobbyist's living room – with the excitement of mixing the aquaria and terraria ho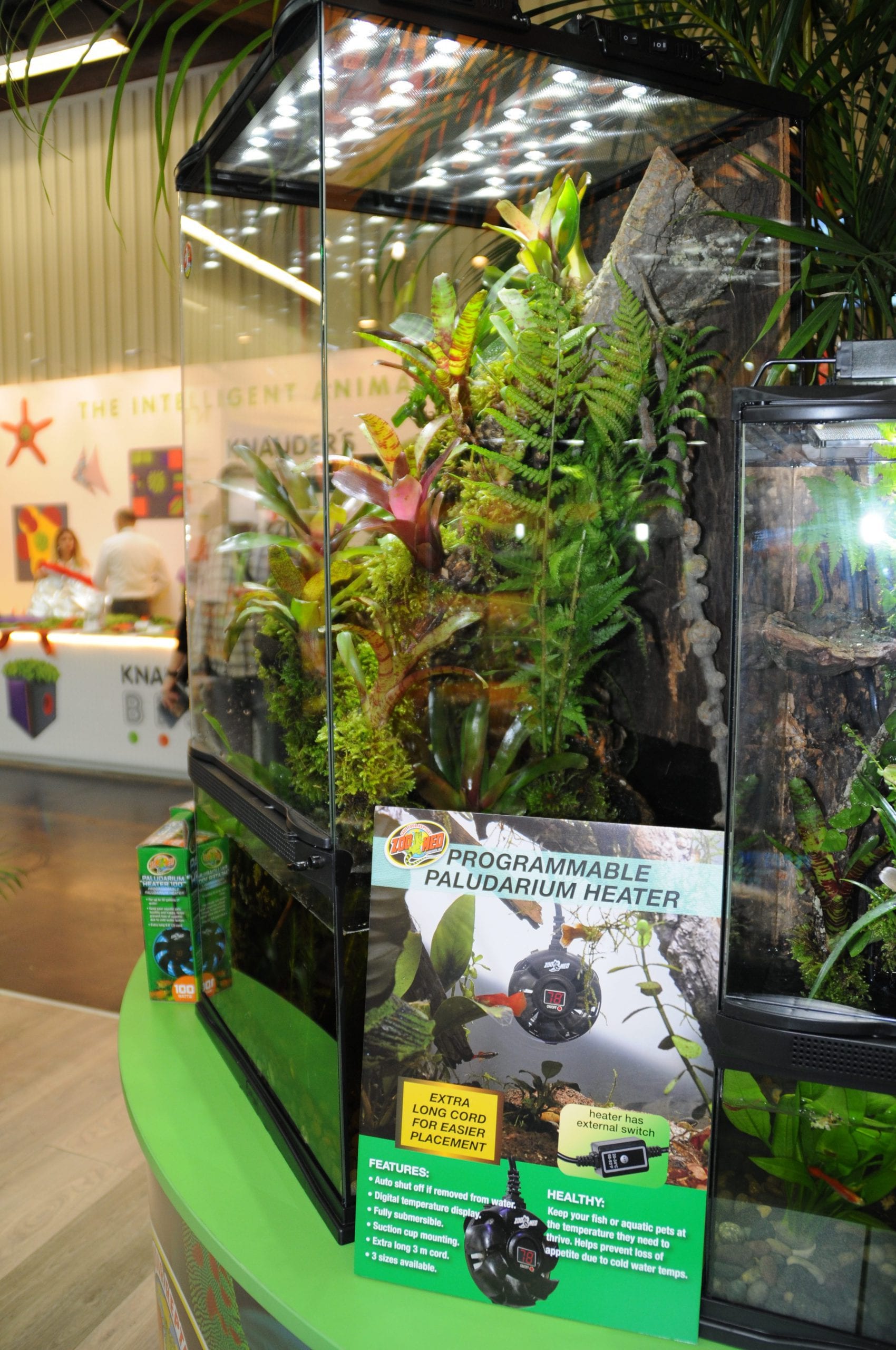 bby together.
The glass Puldariums are very similar to the existing terraria range in the features they provide. Expect a removable mesh lid and one glass hinged door at the front. Ventilation and a clip lock runs underneath the front door. The nano  quarium is not dramatically deep, I forgot to measure, but around 8 inches would be my guess – this will limit the fish species but it's much deeper than what is currently provided in the glass terrariums.
The existing range of LED and T5 hoods provided by Zoo Med fit the Pauldariums too. Not only have Zoo Med provided the glass Paludariums, they have developed a range of filters and heaters to work in them. The filters come in a range of sizes, to cope with various amounts of water to be filtered. Zoo Med have concentrated on ease of use, especially on regular maintenance – it has an easy clean design. The heaters are quite a unique looking product, again with ease of use in mind – there arethree models for various amounts of water to be heated, and are fully programmable for temperature. They have extra long mains cables, an external on / off switch and for safety an auto cut out if the heater is removed from the water. The looks are quite eye catching, a circular design with a digital temperature display in the middle.
Another range of new pr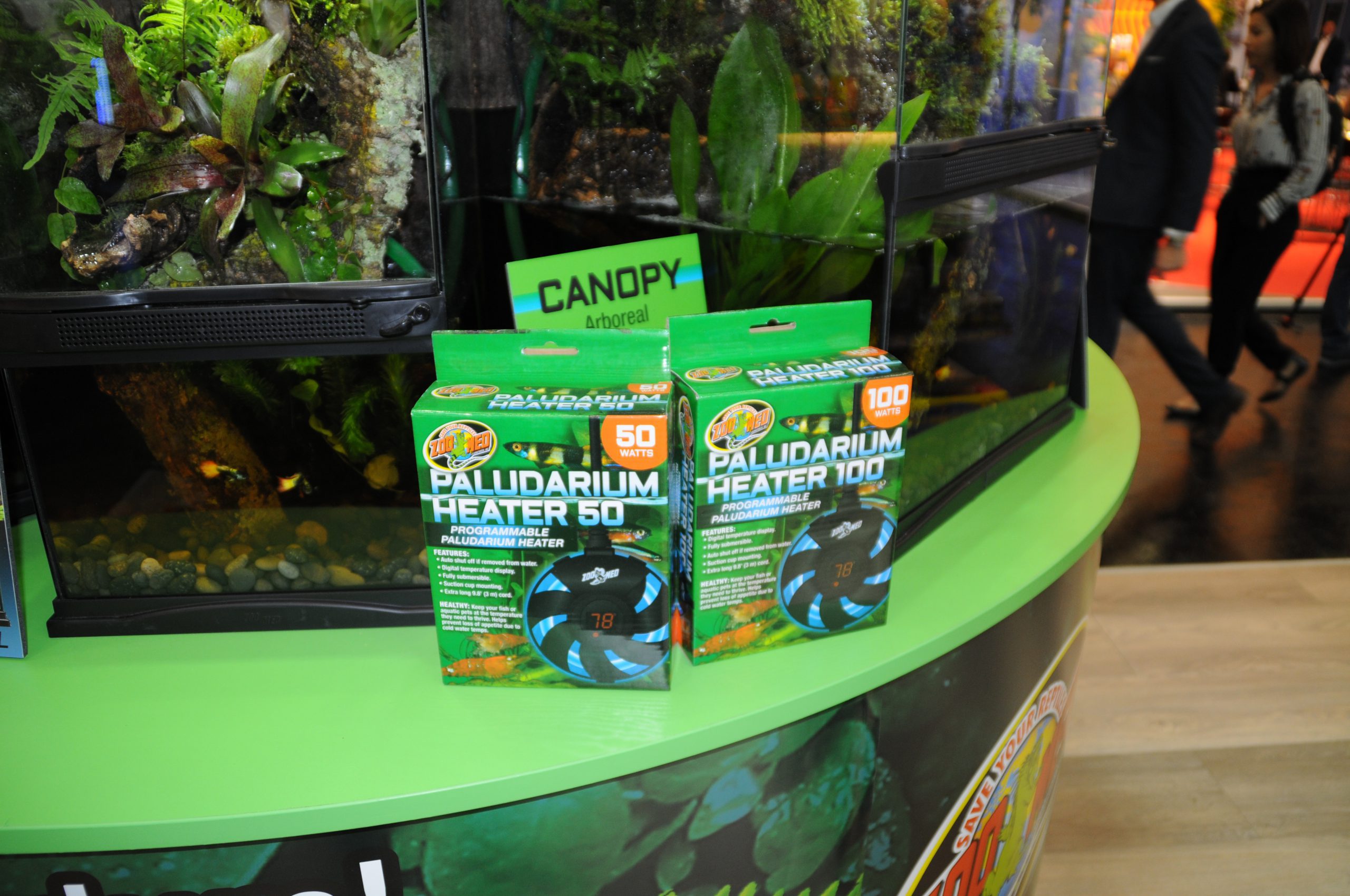 oducts, again not yet released, as a re-boxed, mildly re-designed, version of the Paludarium heaters and filters – this time marketed towards the "turtle" aquarium keepers. In the UK terrapin keeping is very mainstream and these lend themselves well to that use. According to the supplied literature these will be pre-set at a temperature. Zoo Med had a tank, with baby terrapins as a display showcasing these new products.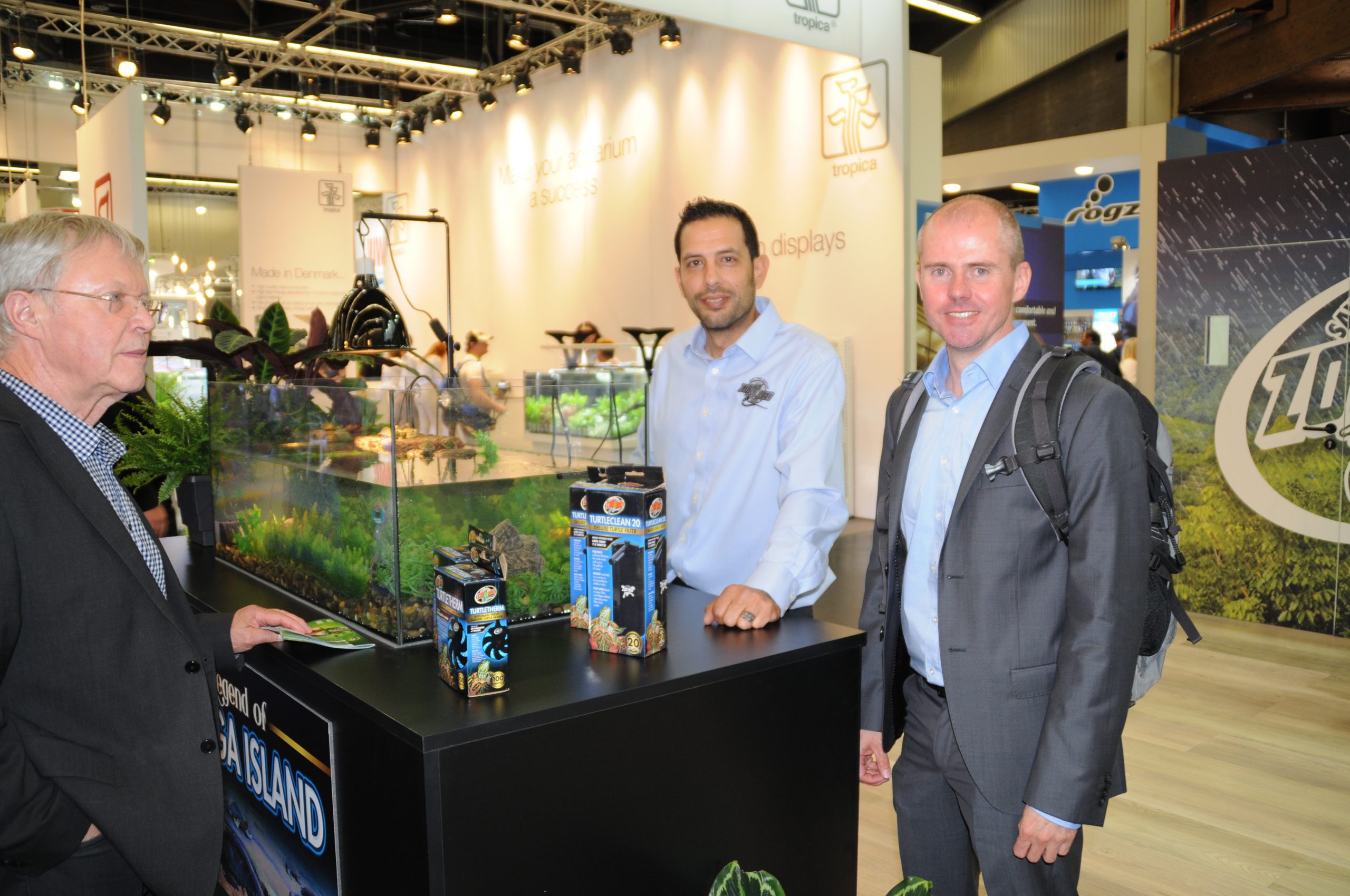 Another product aimed at turtle / terrapin keepers is the Zoo Med Turtlematic – an automatic turtle feeder – ideal for feeding during short breaks. It is designed for the various Zoo Med pellet turtle foods already in their range – and ingeniously the jars actually fit directly onto the Turtlematic making operation very easy. It will automatically feed the turtles daily, and with a bit of forethought can even be used for daily routine feeding. It requires three AA batteries, which are included.
In recent times we have increasingly understood the value of natural weeds and flowers in herbivorous reptiles diet. Zo
o Med are to release their new range, Flower Food Toppers, to meet thisdemand. It's aimed at two separate niches – one is for lizards, the other for tortoises. The aim of this diet is complementary, not stable – add the dried weeds and flowers to the top of fresh similar dietary items to provide an overall wider nutritional value. The lizard variety is made up from a mix of dried chamomile flowers, dried pink cornflowers, red clover flowers, rose petals and sunflower petals. The tortoise version contains dried blue / red cornflowers, blue mallow flowers, chamomile flowers and rose petals. Both ranges are designed to aid a healthy gut, are high in fibre, stimulate activity and of course add enrichment to the animals. All varieties and sizes are packed in convenient pouches.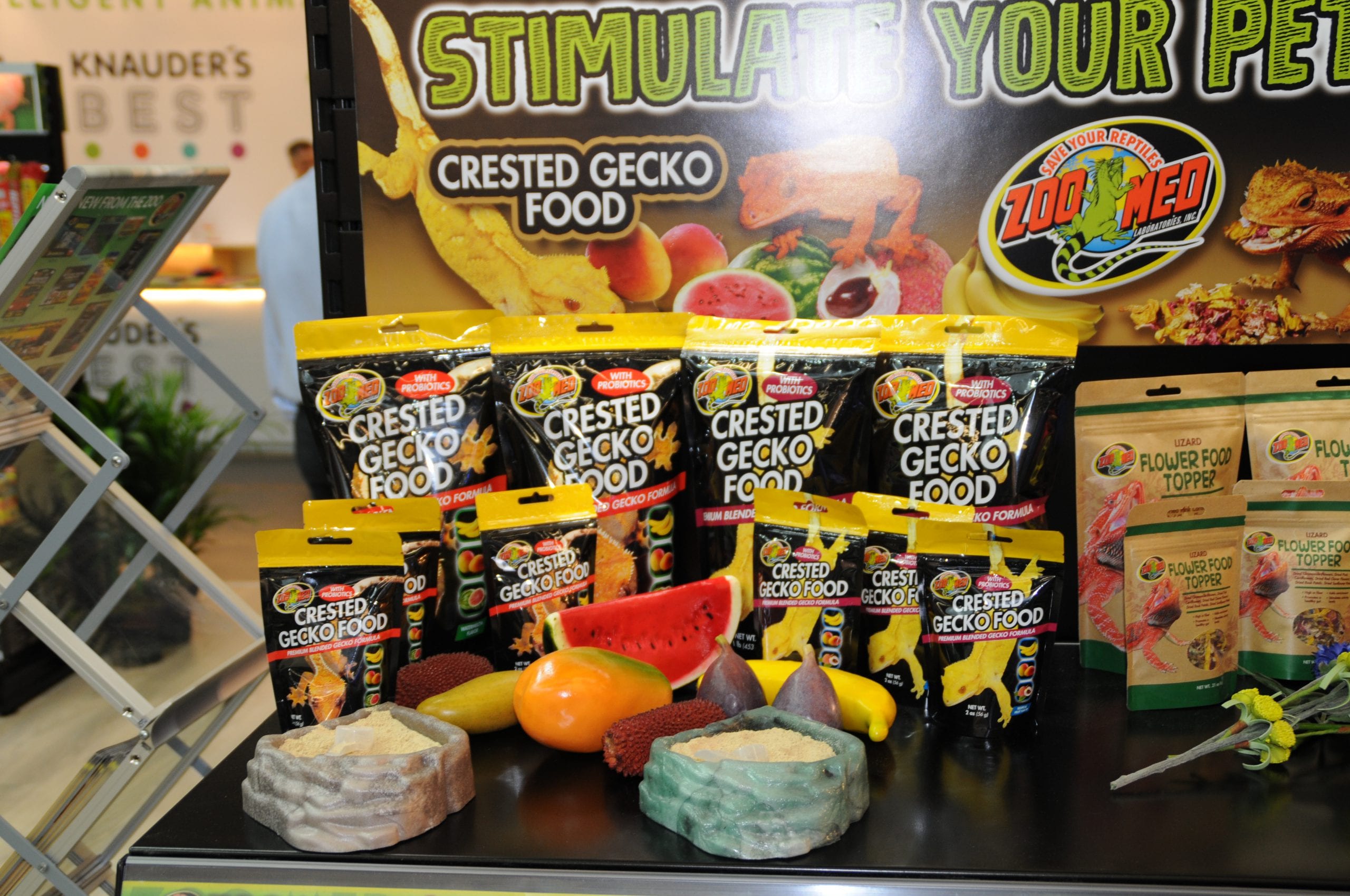 Another addition to the food ranges provided by Zoo Med is the new Crested Gecko Food – a dried premium blended formula that is available in two varieties – tropical fruit and watermelon flavours. Again the packaging is convenient pouches.
Yet another ne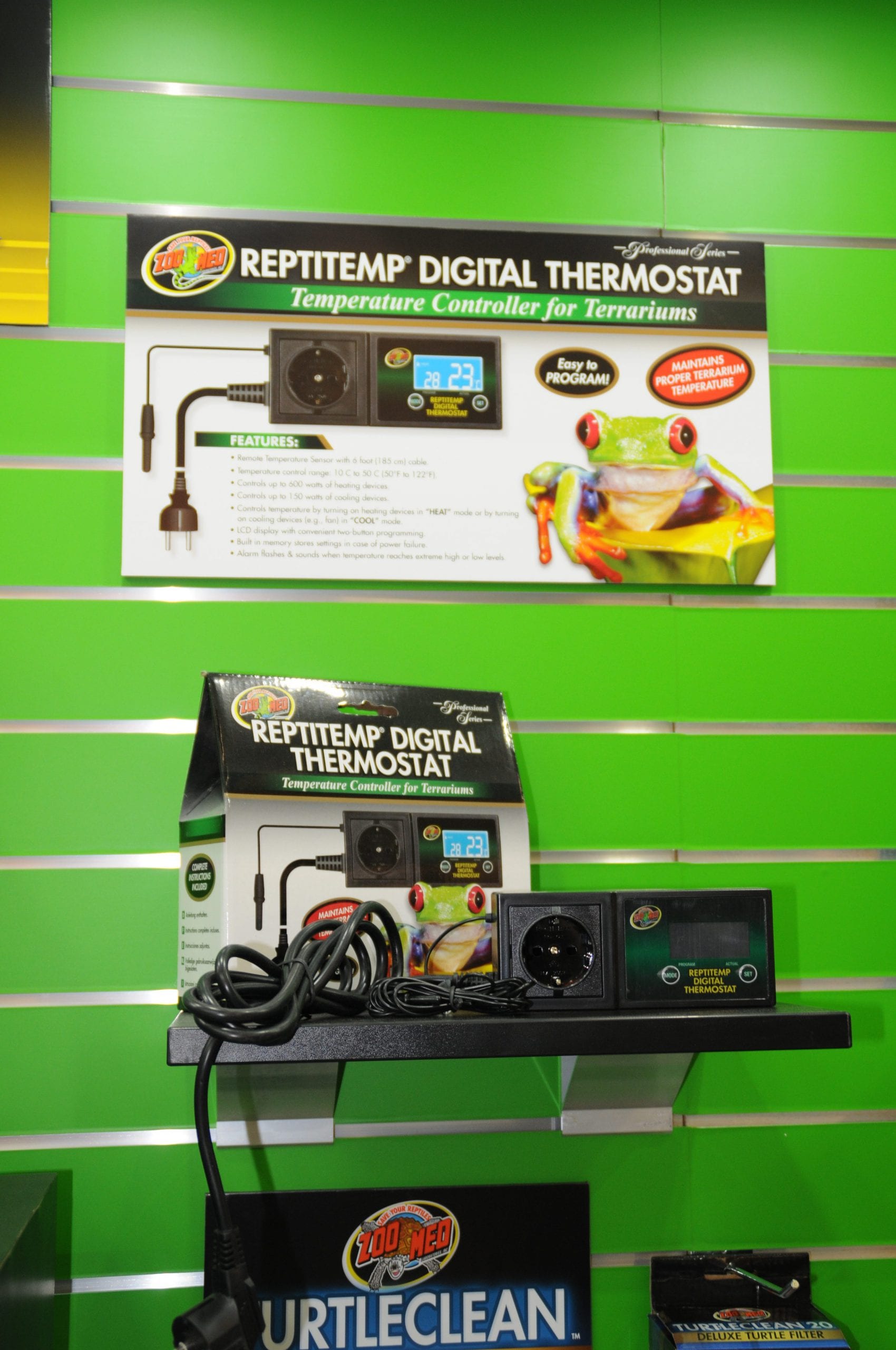 w product to arrive shortly is the Zoo Med ReptiTemp digital thermostat. I was told the UK version will of course have the three pin plugs and sockets. It has a built in alarm, long sensor cable, controls up to 600w of heaters between 10C to 50C, 150w of cooling devices (fans), built in memory for settings (in case of power failure), LED display and easy two button programming.
Enough from Zoo Med – I quickly found Exo Terra's stand, in a different hall. Hagan, the parent company of Exo terra is another long standing pet product supply company and usually has new products to showcase at Interzoo. Again, the stand was large and impressive – but perhaps not as exciting as Zoo Med's this year. It was exciting to see, yet again, manufacturers targeting products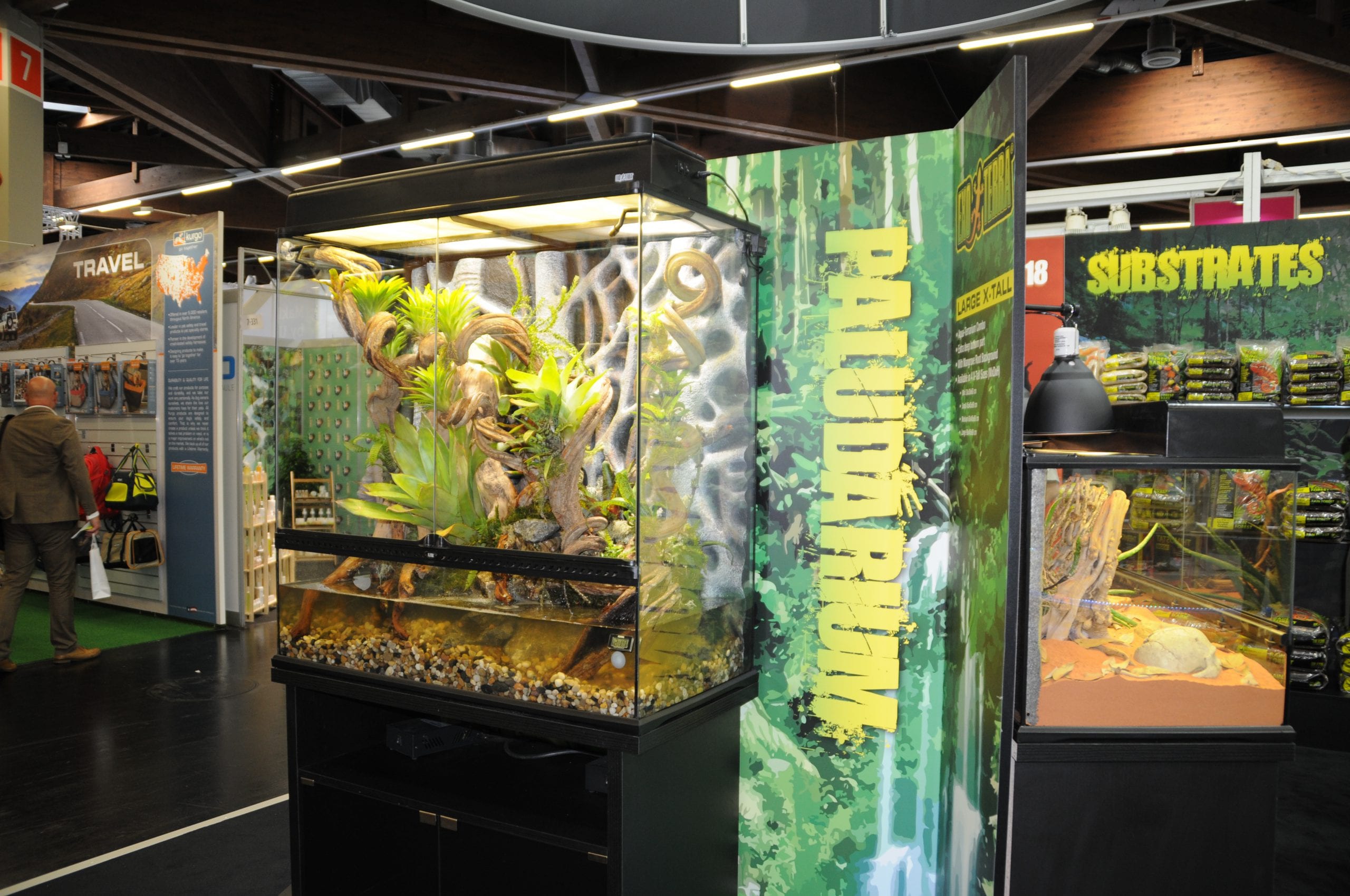 towards the natural terraria hobby with the addition of Paludariums. These mirror the existing range of glass terrariums, just taller and with a deep base for the aquarium.
Another new product from Exo Terra is the diet aimed towards Bearded Dragons – the Dragon Grub Insect Formula. This one is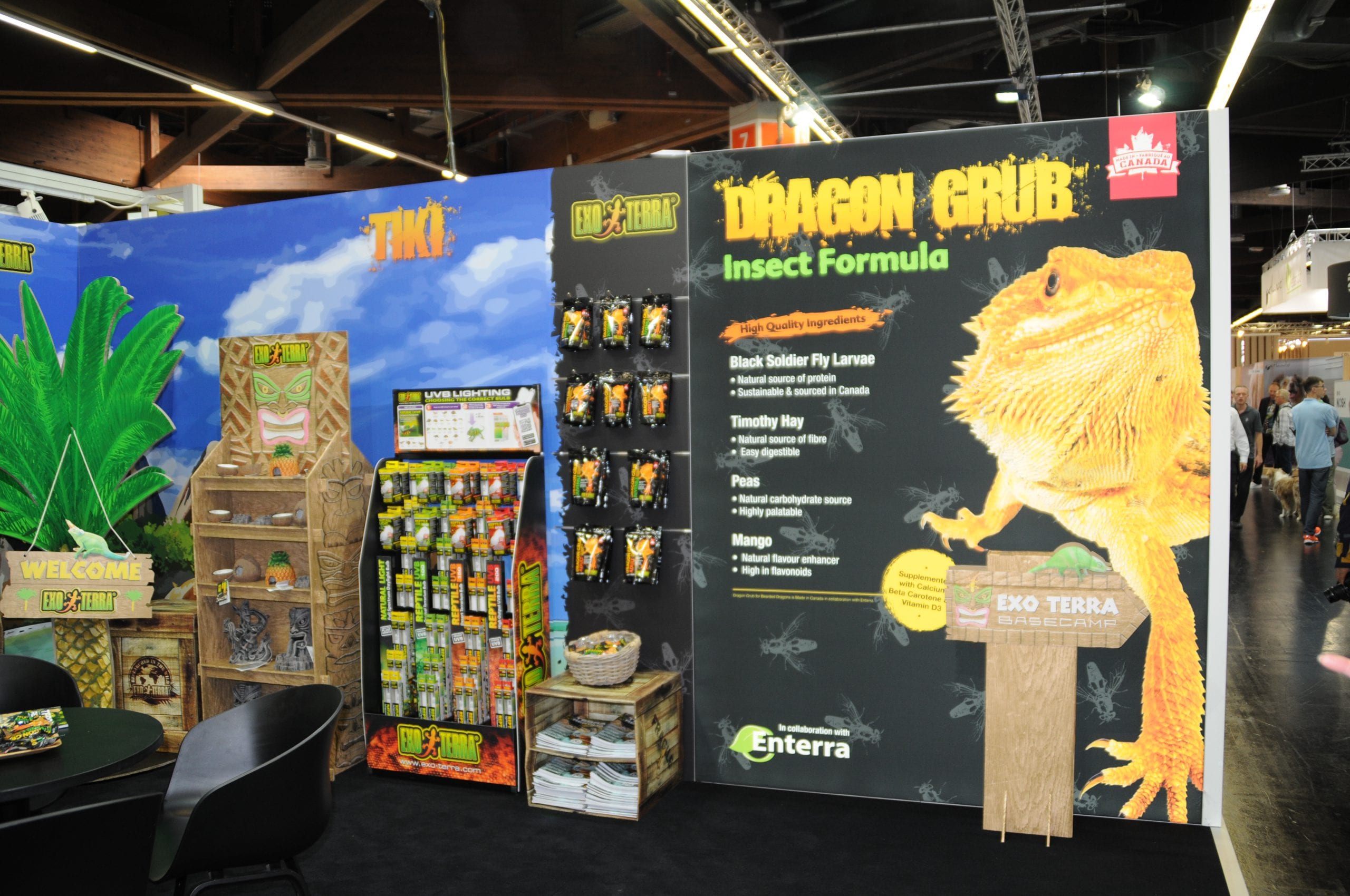 quite exciting as it includes, in its high quality formula, the addition of dried Black Soldier Fly larvae (better known as Calci Worms) – a very  popular recent addition to the livefood marketplace. These are a great source of protein and Exo Terra are keen to promote that the source is completely sustainable. The larvae are added to a mix of dried peas, mango and Timothy hay – so is a balanced nutritional mix of protein, fibre and palatability. I was further pleased to see calcium, vitamin D3 and Beta Carotene had been added too.
I was keen to see Lucky Reptiles display – a German company well known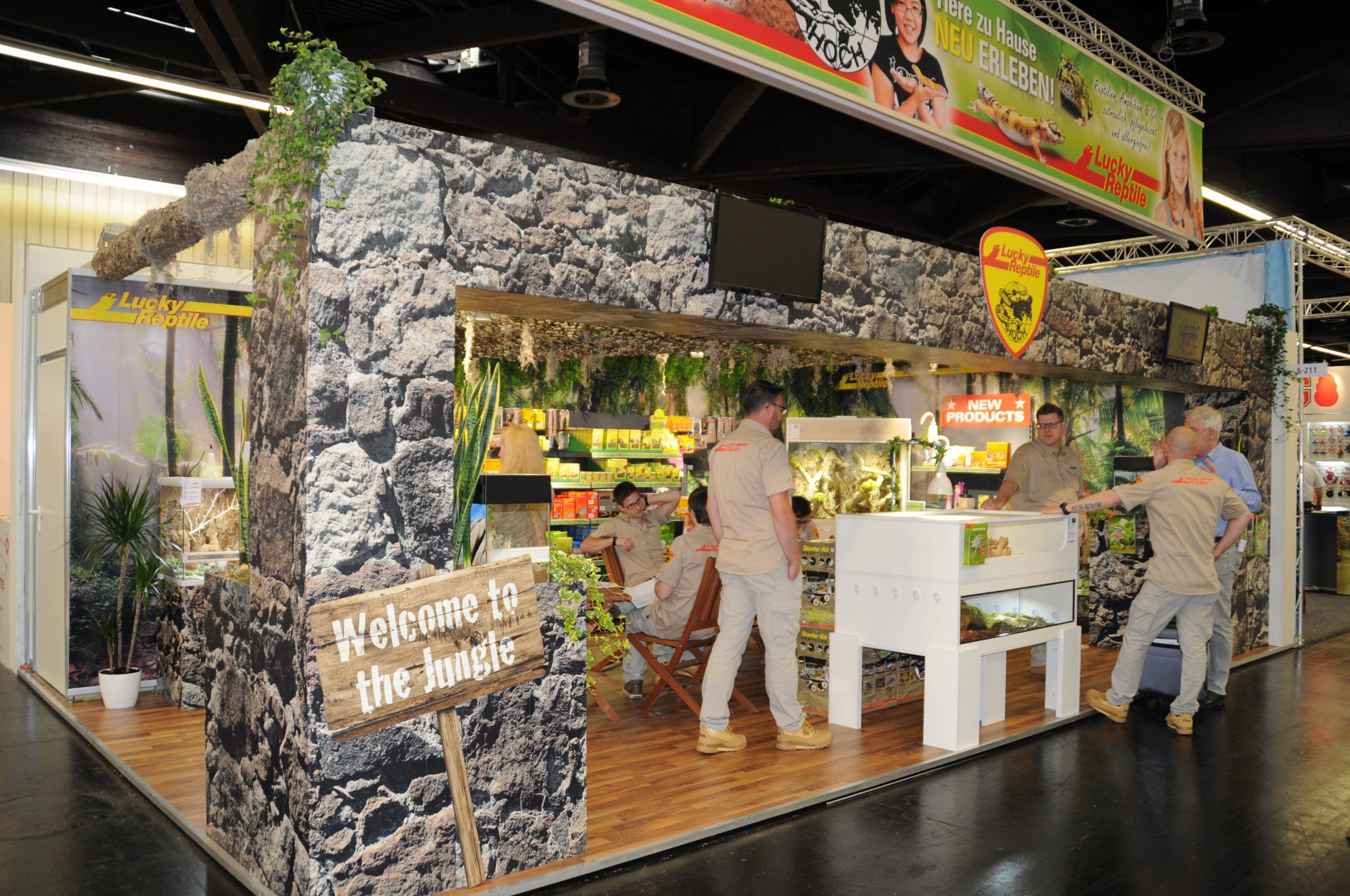 for their existing seriously enormous range covering virtually every aspect of reptile and amphibian keeping. I couldn't see any new products this time – I intended to return to have a chat, but time ran away with me – apologies to the team if there was anything I missed. A very nice looking display stand though, and even without new
products Lucky Reptile remains one of the major players.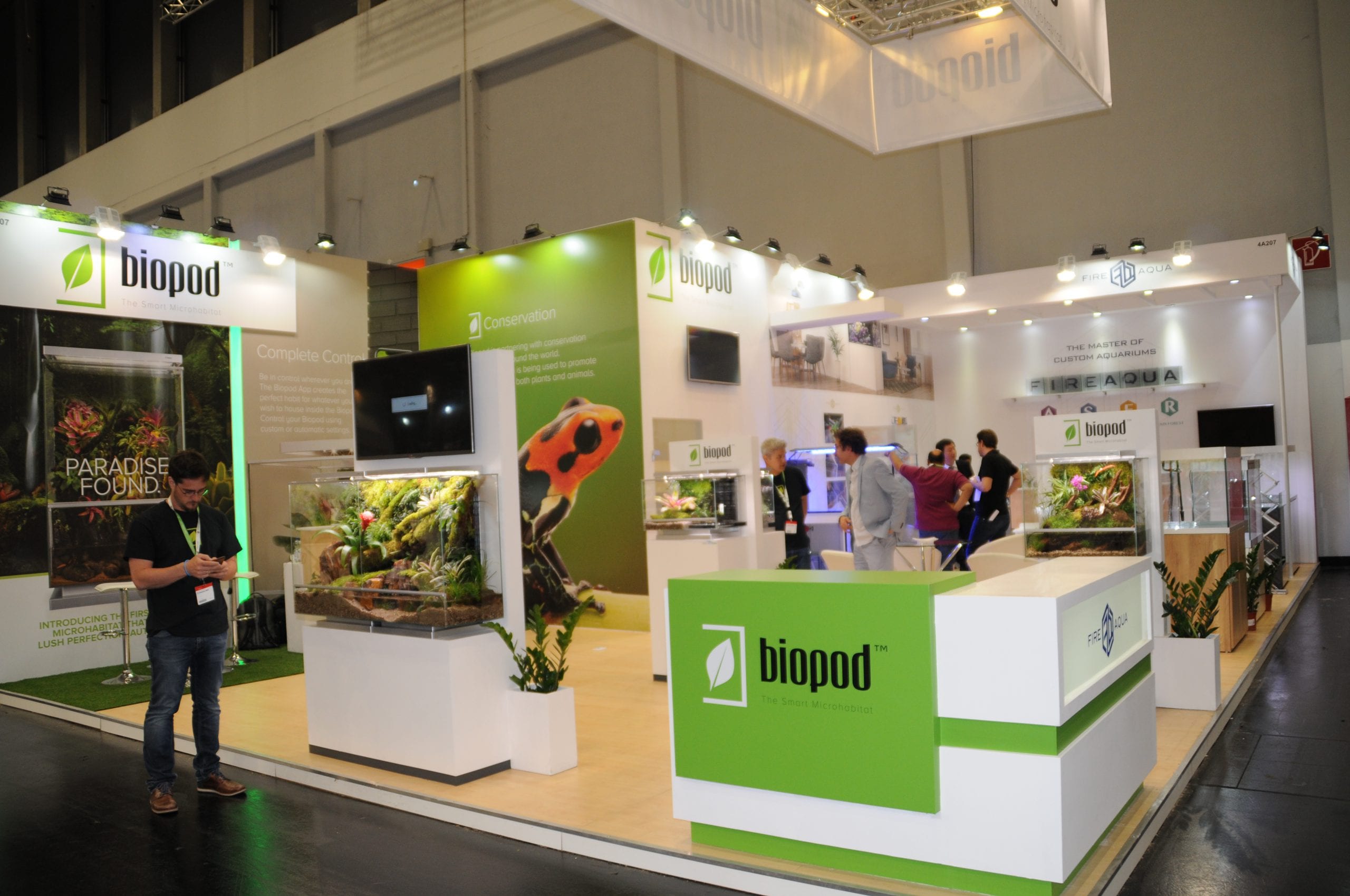 Biopod were also in attendance, showing off their existing range of hi-tech terraria and paludariums. A very modern display stand, as you would expect – but again time was against me to have a chat to catch up with their mark two versions due to be launched very soon.
I was very excited to catch up with my long standing friends at Reptile Systems – a new name in the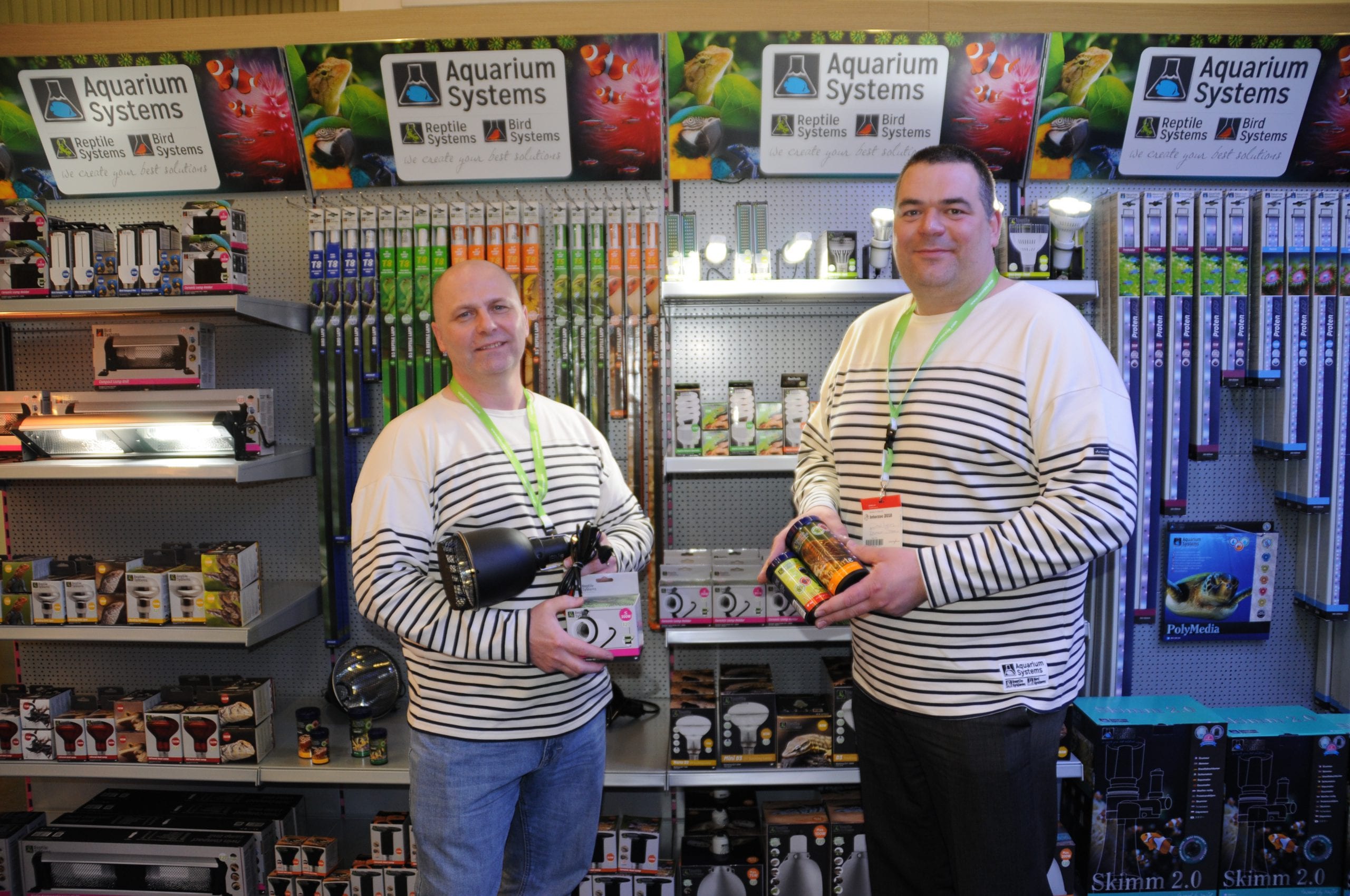 marketplace, but backed by one of the major players in the aquarium market, Aquarium Systems. This company is the biggest worldwide name for aquarium salt, and it's exciting to see what a forward thinking team, backed by a money rich company can achieve. Dale Lewis, owner of the UK brand, is a well known, and well liked character in the trade and Peter Blake has recently worked for another well known brand, but I have known him since my days of being IHS Journal Editor when he supplied articles for the publication. In a very short space of time the team at Reptile Systems have come up with a antastically well thought out range of products.
Firstly, though not newly launched at Interzoo is the range of long life bulbs – each bulb is claimed to last in the region of 3500 hours. There are basking spot varieties, and infra red – both in four wattages. These sit nicely alongside the Reptile Systems range of long life ceramic heaters (10000 hours) – four wattages (including a cute baby 25w version). Of course there is a complementary range of reflector fittings – and launched at the show is a special edition all black version – very sexy. The lighting theme in the Reptile Systems range continues with two ranges of compact UVB bulbs the Pro and the Specialist – Pro in 6% and 12% and Specialist in 5% and 10%. There is a complementary range of single and twin canopy hoods for the compact bulbs. Staying with lighting there are various wattage mercury vapour lamps in the range, with talk of a large 250w version that will be limited to use in zoo type enclosures. Fluorescent tubes are very important to the market place, and Reptile Systems have provided various outputs in both T5 and T8. Finally, for lighting, there is the fantastic range of LED's that have taken this technology much further than the competition. Not only do they provide a compact version, they provide spot and flood versions – the biggest versions are simply awesome in their capabilities.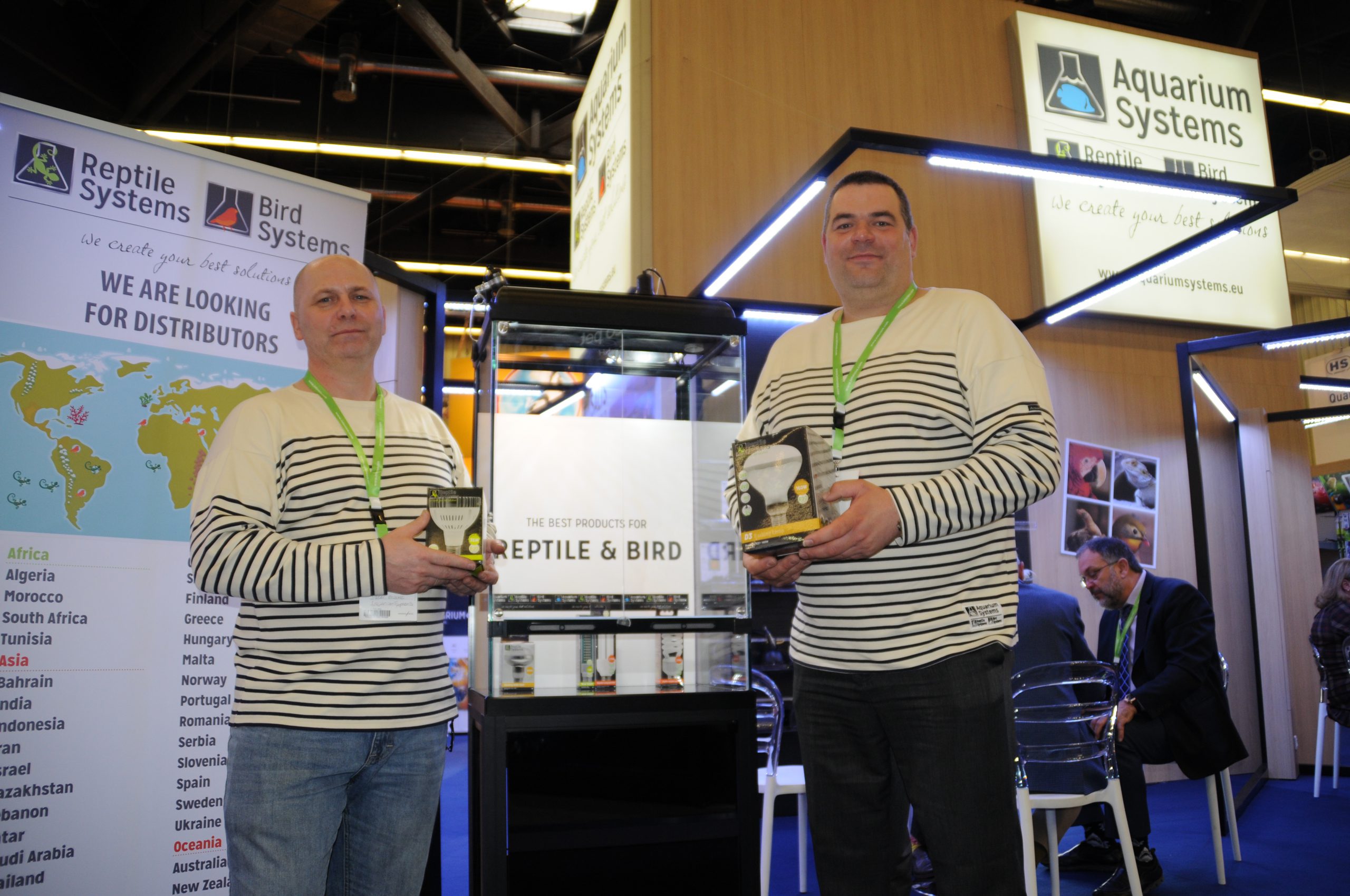 Of course, there are new products being launched, and even products showcased in development stages at Interzoo for Reptile Systems. Firstly is their premier offering in a glass terrarium range – I was shown their working prototype that is still being developed. Although the picture shows hinged doors, the one for sale will be sliding doors – and the base will be deeper (amongst other tweaks) to allow use as a Paludarium. There is also a new twin T5 lighting controller / canopy hood – this is a very exciting development that will allow, for example T5 LED tubes (provided in the Aquarium Systems range) will run alongside a UVB T5 tube – all in one neat unit. Finally, a surprise to the Reptile Systems range – a noncomplicated range of reptile supplements and turtle foods – based on modern thinking and ingredients. As the product range was prelaunch, I don't have full details but I do know, in the supplement range, there is Calcium ultra, Insect food, Vit-A-Min and Vit-A-Min +D3 – which seems a logical and simple way of covering most angles.
At the opposite end of the age range from Reptile Systems, is long standing brand Komodo – born in the days of the now defunct parent company Underworld, now proudly within the Happy Pet collection of brands. I mention Underworld as two of the big names from that era are still dragged out from retirement for the shows to represent the brand – both Jon Coote and Steve Zlotowitz were in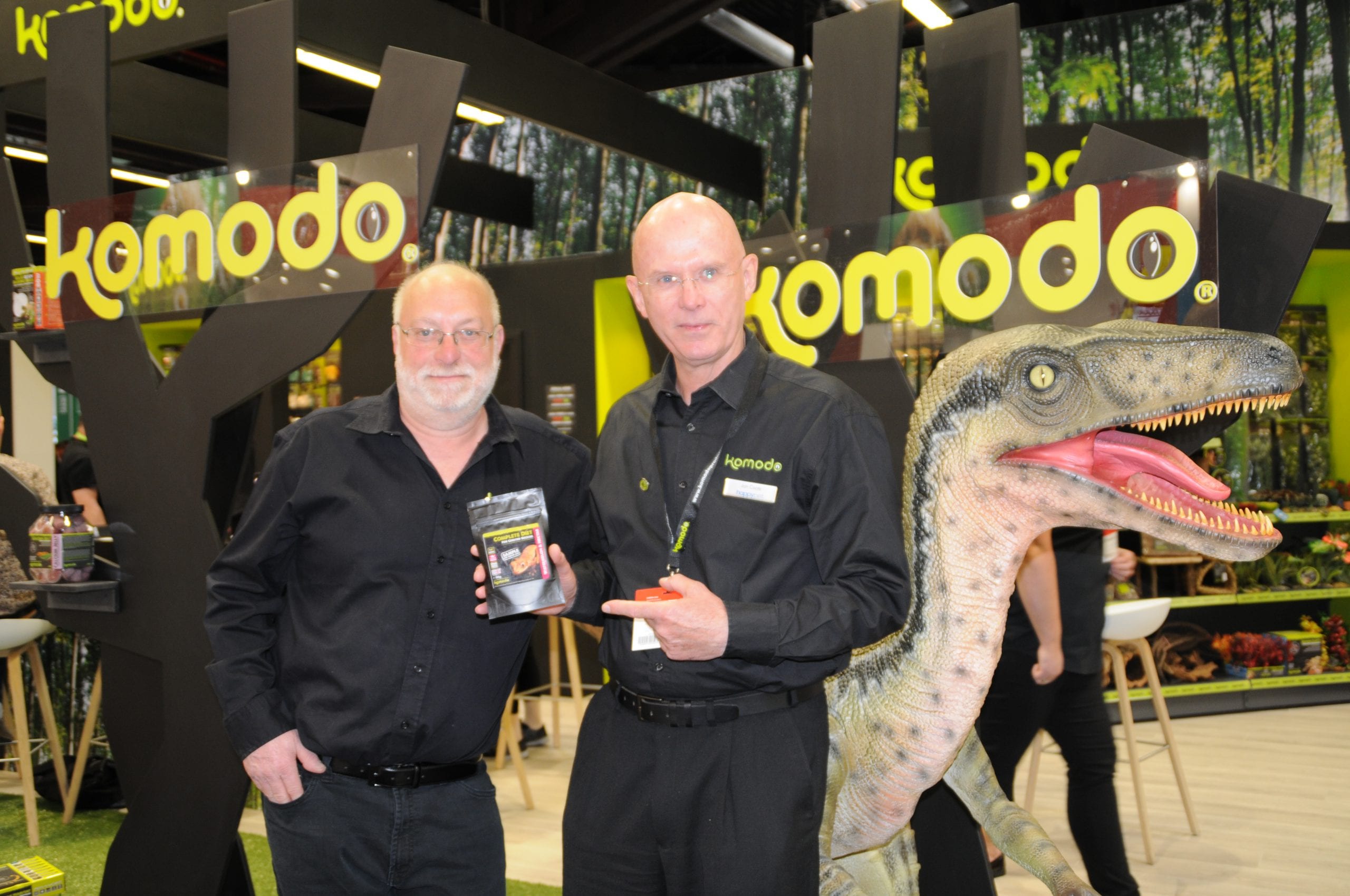 attendance at the attractive display stand. Along with another long standing friend Ian Nixon I had a lengthy chat, to put the world to rights, with the three of them. Of course I couldn't resist a pop at them all by taking pictures of these "old timers" with the new Komodo full size model of a dinosaur (what looked like a Raptor). The Komodo range is already extensive, covering a vast array of virtually every aspect within the herpetological marketplace. However, like most attending Interzoo there was of course some new additions – all are dietary but aimed at species specific.
The first to attract my attention was the (similar to Exo Terra's new Bearded Dragon diet) was the Komodo Complete Gel Diet for Bearded Dragons. This is a probiotic complete food is a formulated gel for omnivorous species such as Bearded Dragons. Easy to use, simply mix one part powder with two parts boiling water – allow to cool into a gel and increase or reduce the level of water to achieve the consistency required. Chop into bite size pieces. The diet includes Black Soldier Fly Larvae (Calci Worms), Calcium Carbonate, Sweet Potato, Banana, Apple, Mineral Clay, Papaya, Coconut Milk, Vitamins & Minerals, Dandelion, Hibiscus, Alfalfa, Honey, Bee Pollen, Spirulina and Pro-biotics. Alongside this is the pro-biotic meal replacement Crested Gecko diets and all fruit eating geckos such as Rhacodactylus and Phelsuma. Its claimed these powdered foods are also suitable for other species such as Anoles, Skinks and Chameleons. Available in three flavours – Watermelon; Nectar, Papaya, Banana; Honey and Tropical Fruit and Insect (includes dried Calci worms). Directions for use sound very easy; simply mix one part powder with two parts water, allow to rest for a couple of minutes to thicken – increase or reduce the level of water to achieve the consistency required, best results are when offered at the consistency of Ketchup.
Komodo have added other diets to their range too – all aimed for turtles / terrapins. There is a Complete Mixed Diet for Turtles / Terrapins, Complete Floating Diet for Turtles / Terrapins (for those species that feed from the water surface), Complete Sinking Diet for Turtles / Terrapins (for bottom feeders such as Musk and Mud turtles), and Natural Treat Mix for Turtles / Terrapins (dried fish, shrimp, mealworms etc).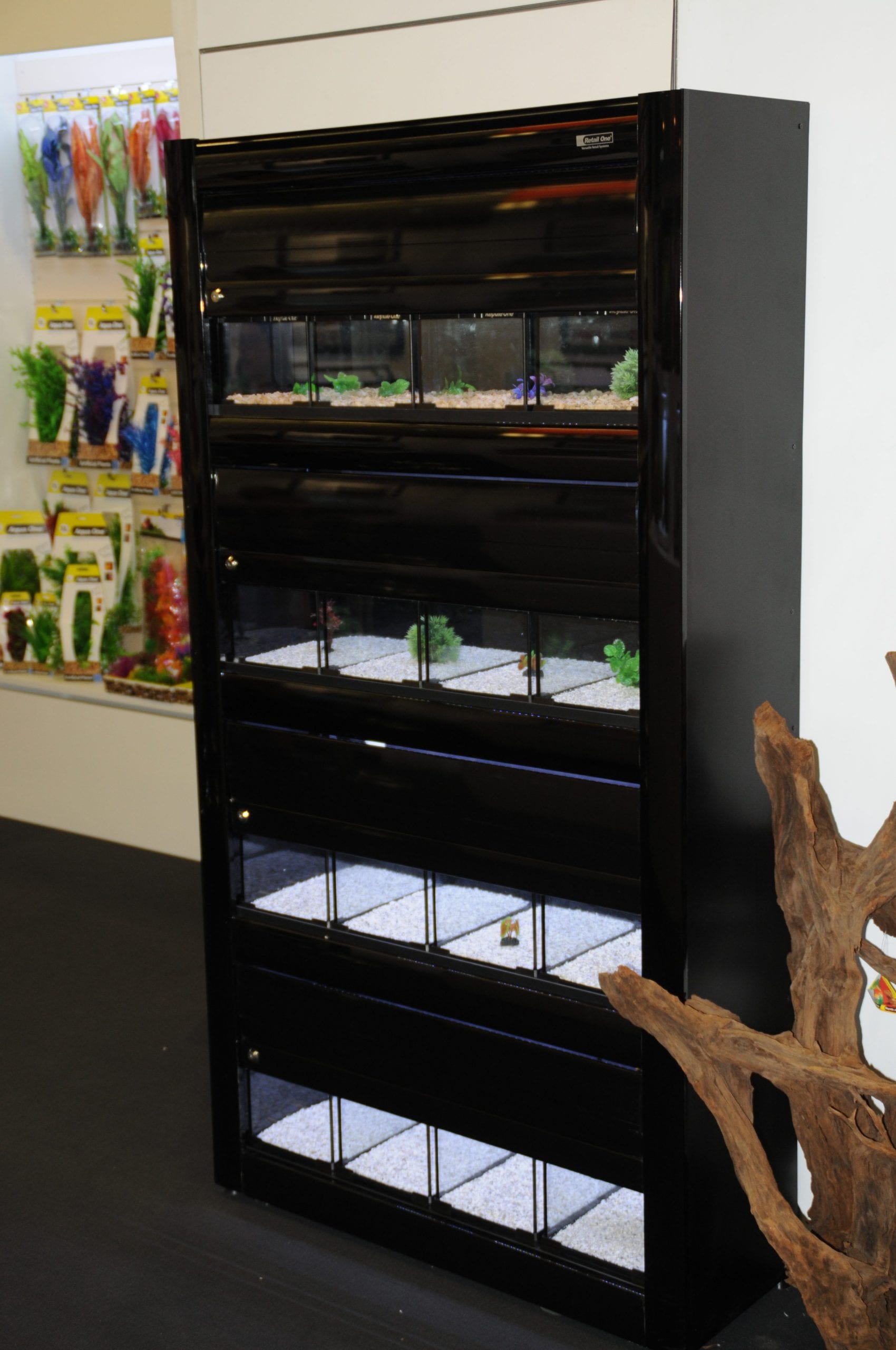 I needed to visit Aqua Pacific's stand – the last time I attended Interzoo I was working on this stand as the reptile consultant for the company. The Aqua One brand name is the only well known Aqua Pacific brand in the UK – Reptile One is now represented by a very small range in the UK reptile marketplace. However I did like their new shop fitting range of stacked vivaria, and these units could certainly fit into the range we offer, supply and fitment, to shops and colleges.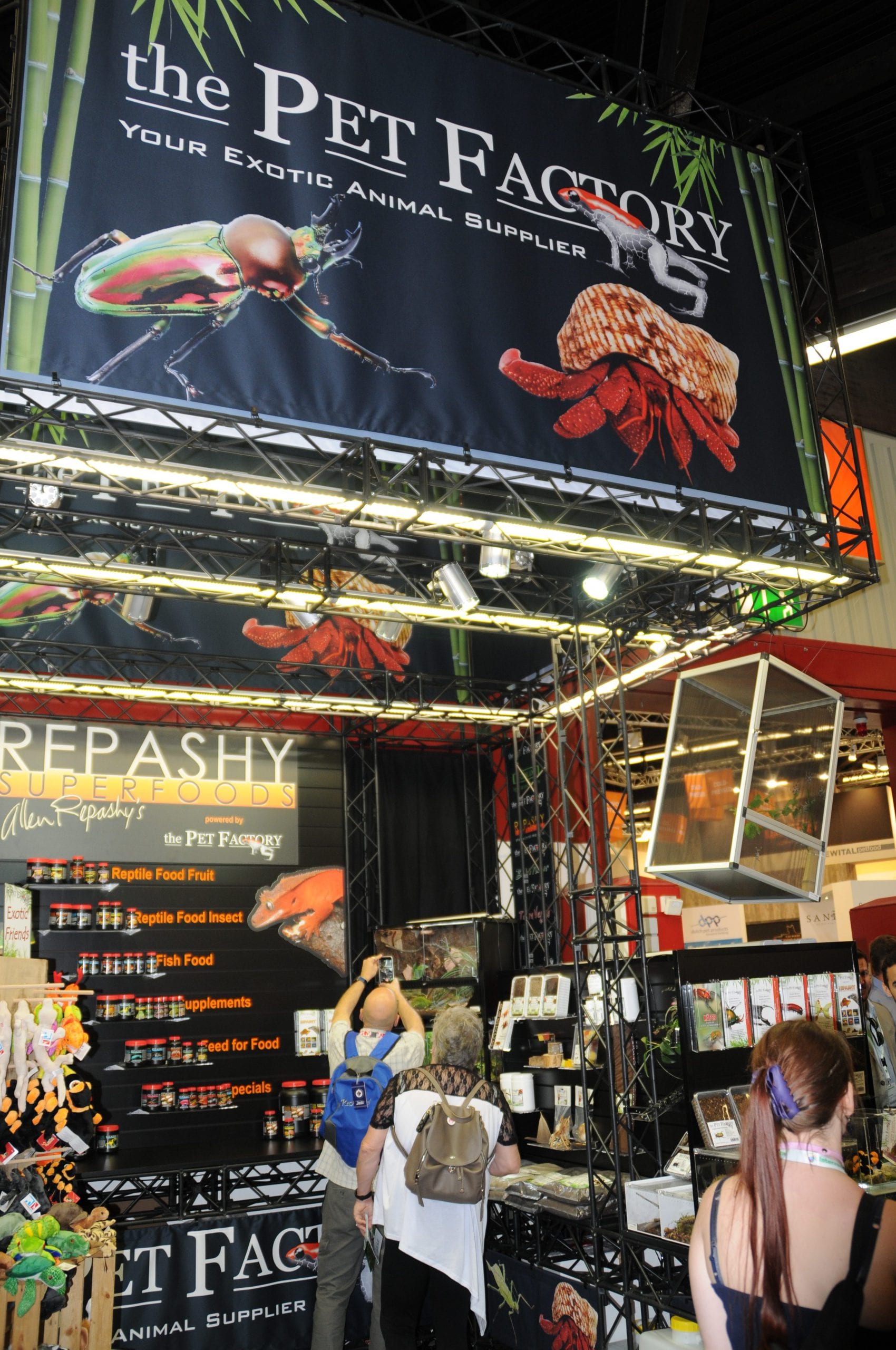 I also enjoyed my visit to my friends at Pet Factory, the innovative German bug company.
Interzoo is the perfect showcase collection of suppliers and manufacturers for those involved in the pet industry – along with these big players were a collection of smaller companies which, here in the UK, we may, or may not come to recognise as household names. I particularly liked a range of hides, bowls, backgrounds and décor from a company called Ceramic Nature. Another eye catcher was the Smart Line glass (plastic framed) terrarium from Terratlantic – especially in the white colour, modern and clean looking.
Nekton, manufacturers of reptile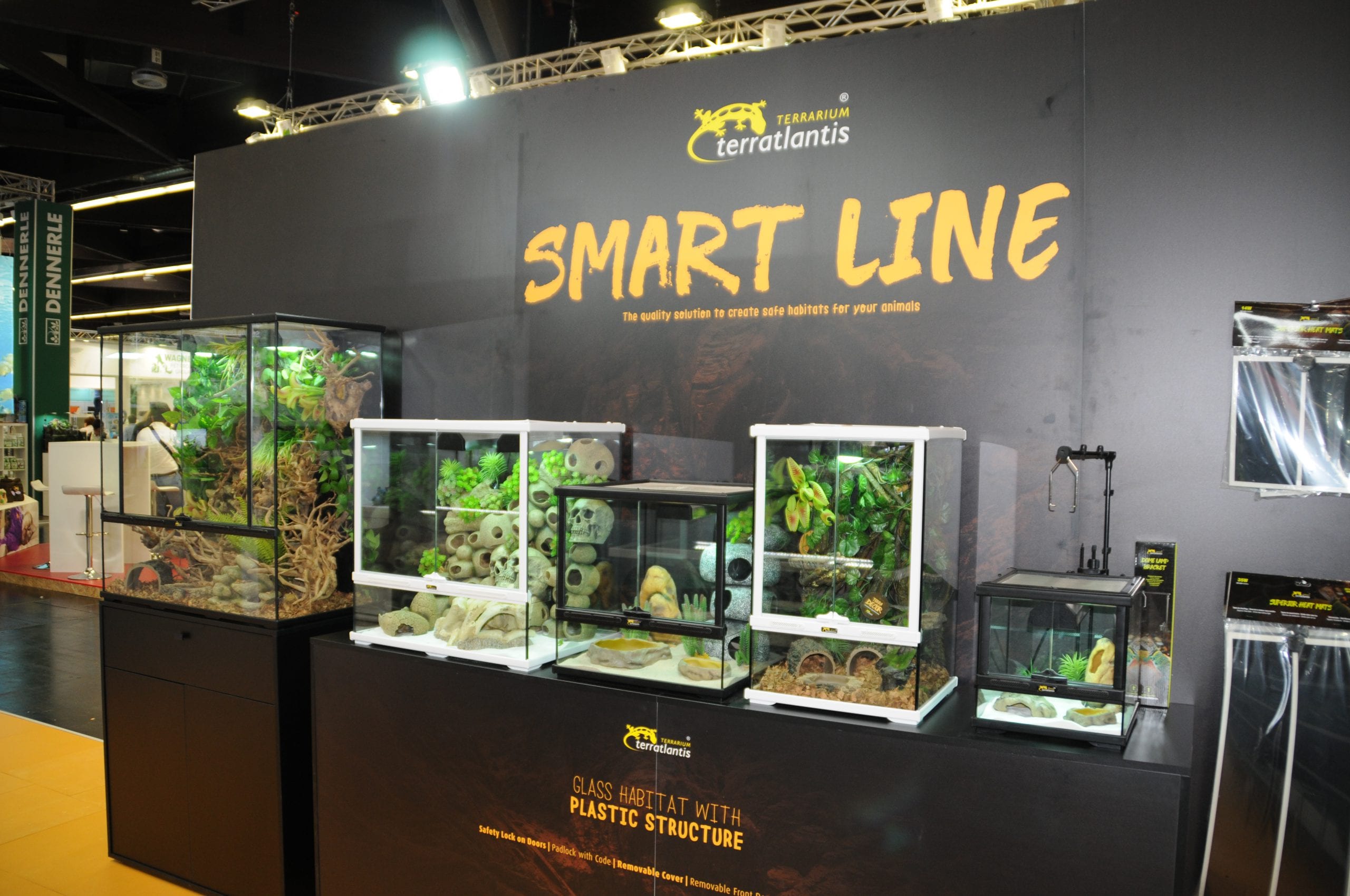 supplements, were in attendance with their excellent range – sadly not a massive name here in the UK. One last small stand was Reptiles-Planet – one that stood out for the wrong reasons – the guy staffing the stand was an exceptionally rude individual! They offer a range of reptile related products that just about only duplicate the big name brands ranges, so I doubt they will appear in too many stores in the UK. However, I did like the look of their Repti-Control Pro digital thermostat – don't know much about it, but I do recognise the design and it may yet appear re-badged in another brands name and box – time will tell.
If you are in the trade I would highly recommend visiting Interzoo, if you can spare more time than the one day I had, you will see an amazing range of pet related products – and the social experience is something rather special – especially if you venture out on the evenings when the food is good and the beer flows!
Kevin Stevens