For anybody involved in the hobby for a long time the Name Vetark is associated with quality reptile care, great treatments and supplements that do a great job. One of the tried and tested favourites is Tamodine. It's a product that every reptile keeper should have in their reptile first aid box.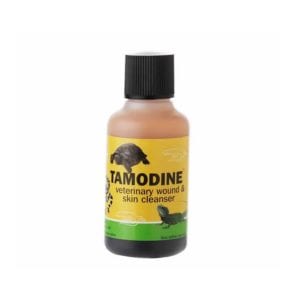 A "tamed" version of Iodine this product is the antifungal and antibacterial and is probably the best way of cleaning reptilian wounds – but its not suitable for amphibians. Easy to use, just apply directly to the cut, with cotton wool or a cotton bud – however we would still recommend seeking veterinary advice.
Tamodine is effective against bacteria, protozoa, yeasts, fungi and some viruses without damaging delicate skin. It has all of the activity of free iodine but with much reduced irritant sensitising effects, and it does not stain.
Tamodine is suitable for cleaning mouth rot lesions in the mouths of reptiles. These are likely also to need antibiotic treatment from a Veterinary Surgeon.
If you don't have any Vetark Tamodine in your reptile first aid kit, it's time to rectify that – it's a must have for any responsible reptile keeper.